BPO call center business
KAGPHA TECH Inc. Operates a BPO corporation in the Philippines. KAGPHA TECH INC. is engaged in consignment business mainly in the United States, Canada, Singapore, Japan and China. We have a wide range of business, from customer center, product sales, web image and video editing, financial customer management to management of each company's SNS, etc., with the strategic goal of "challenge to new BPO", total total response to the needs of the world. We create business solutions.

What is BPO (business outsourcing)?
BPO Call Center Business BPO is a call center or some external outsourcing of the business. In 2014, Philippines surpassed India to become the world's number one market share. It is a major business that will continue to grow in the Philippines, which is still growing.

The Philippine BPO industry, which was the world's first largest. Sales in 2015 amounted to US$22 billion, making it the second largest source of foreign currency after electronics industry exports ($28.5 billion) and Overseas Filipino Workers (OFW) remittances ($25.8 billion). Sales in 2018 reached 35 billion US dollars, surpassing OFW as of 2021, growing to become the number one industry in the Philippines, and are expected to further develop as an industry that supports the economy of the Philippines in the future.

KAGPHA TECH INC. has made it possible to achieve maximum cost reduction and low turnover rate through team management by Filipino executives who have been involved in the BPO business for many years since the start of the BPO industry in the Philippines. In April 2019, we established an operation system with 400 employees, and will continue to expand our business with a view to partnering with companies around the world.
Philosophy
Corporate philosophy
KAGPHA TECH Inc. Offers high quality and valuable services.
And we are customer center, product sales, web images / video editing,
Challenging for new BPO is our strategic goal and we will create total business solutions from finance customer management to SNS management of each company.
Member
Executive introduction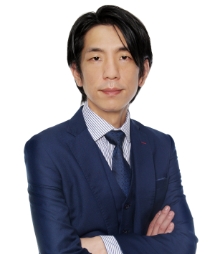 Aoi Ikeda
Chairman
After graduating from university, he worked as a firefighter in Hiroshima for seven years. In 2011, he was dispatched as an emergency aid for the Great East Japan Earthquake, and experienced the landslide disaster in Hiroshima City due to heavy rain in 2014 at the forefront.
Faced the death of many people and experienced every day to realize that life is living while living. And at the bottom of my heart, "I want to try my own value for the world as a Japanese."
He joined the S Division Holdings Group, who continues to work overseas, not as a civil servant without being able to abandon his thoughts.
At S DIVISION HOLDINGS, together with local Filipino and Canadian managers, he introduced the Japanese human resource management system that he has cultivated during his time as civil servants, and developed a personnel department that will become more complex as the scale of our business expands year by year.
In addition, we are still working hard to grow S DIVISION HOLDINGS into a world-class company by assigning personnel based on meritocracy, regardless of nationality.
Company
Company Profile
| | |
| --- | --- |
| Company name | KAGPHA TECH INC. |
| Founded | 2019 |
| Chairman | Aoi Ikeda |
| Employees | 1700名 |
| Address | 3rd Floor , 928 Antonio Arnaiz Avenue, Makati City 1223 Philippines. |
■ Address
3rd Floor , 928 Antonio Arnaiz Avenue, Makati City 1223 Philippines.