Officer

executive introduction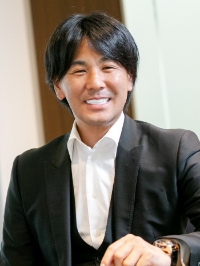 Sumi Hajime
HAJIME SUMI
S Division Holdings Inc.
[Chairman of the Board | Chairman]
Born in Osaka Prefecture in 1979
From the age of 16, he has touched his computer and the Internet to learn the basics of programming and marketing on his own. After graduating from high school, he learned about the economy, finance, and business while working as a truck driver. He further deepened his knowledge about the Web and became independent at the age of 30. Launched an app development company. At the same time, he gained experience in FX and stock operation, and accumulated assets. At the age of 33, embarking on the real estate business in the Philippines. After that, he succeeded in expanding its business to the largest money lending business in seven years, including the financial industry, call center (BPO) business, securities and trading business, and language school management. Utilizing the connection with the political and business world and local influential people, it will be used for holdings for each group company.
GROUP advisory introduction
Takao Sakou

TAKAO SAKOU

S Division Holdings Inc.

[Executive Adviser | Standing Advisor]

Sakou, Fx, Advisory

Japan Forex Club Honorary Member

Takao Sakou

TAKAO SAKOU

S Division Holdings Inc.

[Executive Adviser | Standing Advisor]

Sakou, Fx, Advisory

Japan Forex Club Honorary Member

1970年に北海道大学を卒業後、国内外の主要銀行で敏腕ディーラーとして外国為替業務に従事。 その後1992年、スイス・ユニオン銀行東京支店にファースト・バイス・プレジデントとして入行、1994年にアメリカン・エキスプレス銀行東京支店に転職し、その後モルガン銀行、セキュリティー・パシフィック銀行、さらに1998年には、スイス銀行との合併に伴いUBS銀行となった同行の外国為替部長、東京支店長に就任。 2001年退任。 その後榊原英資元財務官(Mr.Yen.)が主宰する慶應義塾大学グローバル・セキュリティー・センター研究員、幾つかの企業の顧問に就任し現在に至る。 テレビ東京の経済番組に多数回出演する中、2000年には日経アナリストランキング・為替部門にて第1位を受賞するなど、コメンテーターとしても高い評価を得ている。 S DIVISION.との関りは、投資仲間の友人から"フィリピンに新進気鋭の金融グループが在り見学に行かないか?"と紹介を受け須見と出会ったことに始まる。 自身も何度もフィリピンに赴き、マイクロ・ファイナンス(小口金融)の現場である地元民が集まるマーケットの視察など、世界的な銀行員として活躍した観察眼で生きた情報を収集分析し、フィリピンの将来性を確信。 そして、"日本とフィリピンの金融の架け橋となりたい。その為にも日本の投資家の方々に有益で正しい世界やフィリピンの金融情報を発信したい"という須見の理念に共感し、共に実現するためS DIVISION.顧問へ就任。 執筆作業だけなく同社と密に関わりながら、その輝かしい経験からどんなコンテンツを提供できるかを鋭意研究中。 趣味:ゴルフ、車、旅行、ワイン・テイスティング。 家族:一男一女の父。現在は3人の孫のじーじ。
Introduction of GROUP excutives
Aoi Ikeda

AOI IKEDA

S Division Holdings Inc.

[CEO | Chief Executive Officer]

MOUNT FUJI LENDING INC.

[President | President and CEO]

Nikkan Manira Shimbun

[President | President and CEO]

Aoi Ikeda

AOI IKEDA

S Division Holdings Inc.

[CEO | Chief Executive Officer]

MOUNT FUJI LENDING INC.

[President | President and CEO]

Nikkan Manira Shimbun

[President | President and CEO]

After graduating from university, he worked as a firefighter in Hiroshima for seven years. In 2011, he was dispatched as an emergency aid for the Great East Japan Earthquake. Also experienced the landslide disaster in Hiroshima City due to heavy rain in 2014 at the forefront. Face the death of many people and experience every day to realize that human life is only for while he alives. And at the bottom of his heart, "I want to try my own value for the world as a Japanese." He couldn't gave up his thoughts, so he joined the S Division Holdings Group, who continues to work overseas. Not as a civil servant. In S Division Holdings, He introduced Japanese human resource management systems cultivated during his public servants experience, with the local Philippines and Canadian officers, and develop human resources departments that become more complicated as the business scale expands year by year. In addition, he is still working hard to carry out the human resources of abilityism, not bound by nationality, and to grow S Division Holdings into a global company.

Gene Frizzell

(commonly known as Gene)

S Division Holdings Inc.

[Vice president | Vice President of Director]

MOUNT FUJI LENDING INC.

[Vice president | Vice President of Director]

MBA, ISO 9001 (Quality Management System)

Internal auditor

Gene Frizzell

(commonly known as Gene)

S Division Holdings Inc.

[Vice president | Vice President of Director]

MOUNT FUJI LENDING INC.

[Vice president | Vice President of Director]

MBA, ISO 9001 (Quality Management System)

Internal auditor

GENE (Gene) is from Canada and has been staying in Japan for six years, and speaks English and Japanese. He has experienced 15 years of business in Canada and Qatar. He came Philippines whe he has been requested for consulting from a Philippine company, which is growing rapidly in Southeast Asia. He sympathized with the vision and mission of the SDIVISION Group and joined the company as an executive. His specialties were strategies, operations, training, corporate reform, and acquired the MBA, the highest degree of business administration. As an ISO 9001 internal auditor, he has been involved in a variety of large companies ISO certification projects. He has also been engaged not only in business in various countries, but also in local communities. In addition to many years of military service on the Canadian Army, he succeeded in two volunteer tours sponsored by JAICA in developing countries.

Tetsuya Yamagiwa

TETSUYA YAMAGIWA

Zen Finance Inc.

[President | President and CEO]

Tetsuya Yamagiwa

TETSUYA YAMAGIWA

Zen Finance Inc.

[President | President and CEO]

After graduating from university, he visited the Philippines as an internship of Japan's largest electronics manufacturer in his 20s. But the branches were closed when he was working for. Normally, there is no choice but to return to Japan, however, he decided to remain and succeeded to make a contract between the largest electronics manufacturer, using his own personal connections built in the Philippines, and started a business. That's when he was just 22 years old.After entrepreneurship, he has been running a processing company in Cebu for more than 10 years. Continue trading with the largest electronics manufacturer to expand the business scale. After building assets, he sell the company to Filipino partners. Live a free life as the owner of the billiard bar that has been a long -time dream. However, despite continuing such a life for several years, he returned to active duty when he still wanted to fight at the forefront of business. He became president of a certain German automotive parts manufacturer in the Philippines and became manager of asian region. Participated in the S Division Holdings Group since 2016. He enjoys not only English cultivated in overseas life for more than 20 years, but also Tagalog (Philippine local language). He skillfully makes full use of his deep knowledge of local business and culture, and is active in the finance division.

Ramon Carlo L.Pio Roda

(commonly known as Pio)

Zen Finance Inc.

[Financial Analyst | Securities Analyst]

Ramon Carlo L.Pio Roda

(commonly known as Pio)

Zen Finance Inc.

[Financial Analyst | Securities Analyst]

He is a member of the Philippine University Business School, the Philippine University Villata Business School CESAR E.A, and graduated from the University of Philippines (UP) in the same position as the University Tokyo in japan. He is qualified as a Philippine Certified Public Accountant (CPA) and is also an investor in the Philippine Stock Market. In the Philippines, he has been selected as a professor at the University of Philippines at an unusual youth, and has taught investment, financial analysis, futures trading, optional trading, and swap transactions, etc. Recently, in April 2018, he published a paper on "the strengths and disadvantages of banks and non -bank investors." Currently, as our exclusive analyst, he has contributed greatly to the securities business, and has also participated in our official column.

Clement Luis L. Dizon

(commonly known as Clem)

STEP PHILIPPINE REAL

ESTATE PROPERTIES INC.

[President | President and CEO]

Clement Luis L. Dizon

(commonly known as Clem)

STEP PHILIPPINE REAL

ESTATE PROPERTIES INC.

[President | President and CEO]

Graduated from "SAN BEDA COLLEGE" in 1987. Later, he served on the board at large companies, such as the Philippine real estate company, REMAX PHILIPPINES, AXA Group, and Mega Bank Metro Bank related companies. At this time, he experienced life insurance, retirement planning, medical insurance, real estate, educational funding, and investment in mutual funds, as an advisor of investment and finance. And in the process, he also formed his personal connections in real estate. He has also served on board at a company in liquor trade, such as CMG Marketing Services, Inc. and IDP International. He left a track record, such as pioneering new distribution routes. He joined STEP Philippine Real Estate Properties Inc. with long-term offers from relatives. Regardless of the position he has acquired, he decided to do his best for the development of Step Philippine Real Estate Roperties. Taking advantage of a lot of knowledge and personal connections gained from his experience so far, he is active every day to select only carefully selected real estate projects in the Philippines and accommodates client's needs.

Miyuki Ikeda

MIYUKI IKEDA

S Division Holdings Inc.

[Director of Finance & ADMINISTRATION | Financial / General Affairs Department]

Noriko Mizushima

NORIKO MIZUSHIMA

S Division Holdings Inc.

[Director of Japan Client Relations & Operations | Client Relationship & Operation Department Officer]

Geraldine Del Mundo

S Division Holdings Inc.

[Administration & HR Manager | General Affairs / Human Resources Division]

Janina Santiago

S DIVISION HOLDINGS INC.

[Continuous IMPROVEMENT Manager | Continue Inn Prouthema Manager]

Keiichi Tokisawa

KEIICHI TOKISAWA

Nikkan Manara Shimbun

[CHIEF EDITOR OF NAVIMANILA | Editor -in -chief Navi Manila]

Racquel Marasigan

Nikkan Manira Shimbun

[Circulation Manager | Circulation Manager]

Cristina Rodriguez

Nikkan Manira Shimbun

[Advertising Manager | Advertising Department Manager]

Maasa Kawasaki

MAASA KAWASAKI

Nikkan Manira Shimbun

[Project Manager | Project Manager]